What is Pick 3
Pick 3 is a three-digit number game from the South Carolina Education Lottery. Pick 3 drawings are held every evening at 6:59 and aired live on local television stations. Midday drawings are not televised and are held Monday through Saturday afternoons at 12:59. No midday drawings are held on Sundays or on Christmas Day. Players have the option of choosing to play a straight ticket to match numbers in the exact order drawn or to play a box ticket to match numbers drawn in any order. There is a straight/box choice to cover both possibilities. Players have the option of purchasing a combo ticket equal to 3 or 6 straight plays. Front Pair and Back Pair play types are also available. Each play costs 50¢ or $1.
1 Pick your numbers
Select a two-digit number (*00 to 99*) or a three-digit number (000-999) on the play slip. Use one panel (PLAY A - PLAY E) for each desired play.
2 Quick Pick
If you prefer having any or all of your numbers selected at random by the terminal, mark the "QUICK PICK" box for each play. All plays and play options selected on the play slip will be valid for the specified draw only.
3 Play Amount
Select the play amount of either 50¢ or $1. Combo tickets range in price: a 3-way combo is $1.50 or $3 and a 6-way combo is $3 or $6.
4 Play Type
Choose a "TYPE" from the list of Play Types.
STR = Straight Play: Match winning numbers in exact order drawn.
STRAIGHT PLAY: To win, the number you pick has to match the number we draw in exactly the same order.
BOX = Box Play: Match winning numbers drawn in any order.
BOXED PLAY: To win, your number has to match the number we draw, but the three digits can be in any order. There are two kinds of box plays:
3-WAY BOX: Pick a number with two digits that are the same and one that's different. It's called a 3-way box because there are three possible winning combinations.
6-WAY BOX: Pick a number with three different digits and you'll have six possible winning combinations.
STR/BX = Straight/Box: Combines a 50¢ Straight AND a 50¢ Box for a 3-digit number on a single play. The Straight/Box play may only be played for $1 per play.
COMBO = Combination: Equal to 3 or 6 Straight plays for 50¢ or $1. Win $250 or $500 if you match winning numbers drawn in any order in a single play.
PAIRS: Pick two numbers and specify their location, either the front two numbers or the back two numbers. A player with a pair selection ticket cannot use the pair ticket to collect on any other type.
FRONT PAIR: Player wins when the front two numbers on the ticket match in exact order the first two numbers drawn.
BACK PAIR: Player wins when the back two numbers on the ticket match in exact order the last two numbers drawn.

5 Draw Times
Mark the "DAY" (12:59 p.m.), "EVE" (6:59 p.m.), or "BOTH" box to select the drawing(s) you want to play. If no box is selected, then the ticket will be valid for the NEXT drawing that occurs.
6 Multi-draws
Play up to 14 draws for "DAY" or "EVE" or 28 draws for "BOTH" by marking the appropriate box under "Number of Multi-Draws." NOTE: Multi draw selections will be consecutive from the draw date selected. There are NO midday drawings on Sundays or on Christmas Day.
7 Advanced Play(s)
Indicates a draw day other than the present day (not today).
8 Sign the Back of the Ticket
Upon purchase, SIGN the ticket back and SECURE your ticket. Check your selections to make sure they are correct. Player is solely responsible for verifying all selections on the ticket. If there is an error, have the retailer CANCEL the ticket and print another. REFUSE to pay for a ticket that is not printed clearly or is not exactly as you want. There are rules as to how long a player has to cancel a ticket. In some cases the player may not be able to have a ticket canceled.

DO NOT ERASE. If you make an error, mark the "VOID" box beside the selected play. You must be 18 years of age to play.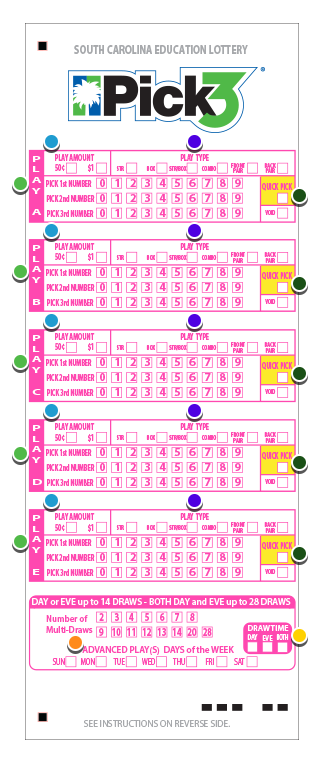 Prior to each drawing, Pick 3 sales will be temporarily suspended to allow for the drawing. Pick 3 sales are suspended at 12:45 p.m., Monday through Saturday, and at 6:45 p.m. every night. After making a Pick 3 purchase, a player has up to 20 minutes to cancel the sale; however, a retailer may NOT cancel a ticket sold for a given draw after sales have been suspended for that drawing.
A player MUST be at least 18 years of age to purchase a ticket.
For more information on odds, drawings, winning numbers and remaining or unclaimed prizes, ask your lottery retailer, visit our website at www.sceducationlottery.com or call toll free 1-866-736-9819 during regular business hours. (Except State Holidays)
Tickets, transactions, and winners are subject to SCEL rules and state law. SCEL shall not be responsible for lost, stolen, or mutilated tickets. For current or past winning numbers call, (803) 734-IWON (4966) or check under the specific game on our website.
Gambling may be addictive. If you or someone you know has a gambling problem, call toll free 1 877 452 5155 or visit the PlayResponsiblySC.com website. Have Fun. Play Smart. Play Responsibly.
Winning Numbers for the Most Recent Drawings
April 18, 2021
3 - 8 - 4
Evening
| | |
| --- | --- |
| Box Winners: | 1,357 |
| Straight Winners: | 357 |
| Front Pair: | 12 |
| Back Pair: | 10 |
April 17, 2021
1 - 6 - 8
Evening
| | |
| --- | --- |
| Box Winners: | 2,106 |
| Straight Winners: | 817 |
| Front Pair: | 6 |
| Back Pair: | 1 |
April 17, 2021
0 - 8 - 6
Midday
| | |
| --- | --- |
| Box Winners: | 732 |
| Straight Winners: | 125 |
| Front Pair: | 3 |
| Back Pair: | 0 |
April 16, 2021
1 - 6 - 7
Evening
| | |
| --- | --- |
| Box Winners: | 1,349 |
| Straight Winners: | 379 |
| Front Pair: | 10 |
| Back Pair: | 2 |
April 16, 2021
5 - 8 - 4
Midday
| | |
| --- | --- |
| Box Winners: | 617 |
| Straight Winners: | 185 |
| Front Pair: | 10 |
| Back Pair: | 2 |
April 15, 2021
6 - 2 - 6
Evening
| | |
| --- | --- |
| Box Winners: | 920 |
| Straight Winners: | 840 |
| Front Pair: | 25 |
| Back Pair: | 21 |
Pick 3 Overall Odds
Ways to Play
Examples
You win if any of these combinations are drawn
Payout for 50¢ Play
Payout for $1 Play
STRAIGHT:
Play 3 digits in exact order. 1 way to win.
123
123
$250 (Odds:1 in 1,000)
$500 (1 in 1,000)
3-WAY BOX:
Play 3 digits, 2 which are identical, in any order. 3 ways to win.
122
122 / 212 / 221
$80 (Odds:1 in 333)
$160 (1 in 333)
6-WAY BOX:
Play 3 unique digits, in any order. 6 ways to win.
123
123 / 132 / 213 / 231 / 312 / 321
$40 (Odds:1 in 167)
$80 (1 in 167)
3-WAY STRAIGHT/BOX


Play straight and box with 3 digits, 2 which are identical. 3 ways to win.

122
122 / 212 / 221
No 50¢ Play
If match in exact order, win $330 (Odds:1 in 1,000) / If match 3-WAY BOX only in any order, win $80 (Odds:1 in 333)
6-WAY STRAIGHT/BOX


Play straight and box with unique digits. 6 ways to win.

123
123 / 132 / 213 / 231 / 312 / 321
No 50¢ Play
If match in exact order, win $290 (Odds:1 in 1,000) / If match 6-WAY BOX only in any order, win $40 (Odds:1 in 167)
3-WAY COMBO PLAY


3 straight plays with 3 digits, 2 which are identical. 3 ways to win.

122
122 / 212 / 221
Payout for $1.50 Play
Payout for $3 Play
$250 (Odds:1 in 333)
$500 (1 in 333)
$250 (Odds:1 in 333)
$500 (Odds:1 in 333)
6-WAY COMBO PLAY


6 straight plays with 3 unique digits. 6 ways to win.

123
123 / 132 / 213 / 231 / 312 / 321
Payout for $3 Play
Payout for $6 Play
$250 (Odds:1 in 167)
$500 (1 in 167)
$250 (Odds:1 in 167)
$500 (1 in 167)
FRONT PAIR


Play first two digits. One way to win.

12*
120, 121, 122, 123, 124, 125, 126, 127, 128, 129
$25 (Odds:1 in 100)
$50 (1 in 100)
BACK PAIR


Play last two digits. One way to win.

*23
023, 123, 223, 323, 423, 523, 623, 723, 823, 923
$25 (Odds:1 in 100)
$50 (1 in 100)